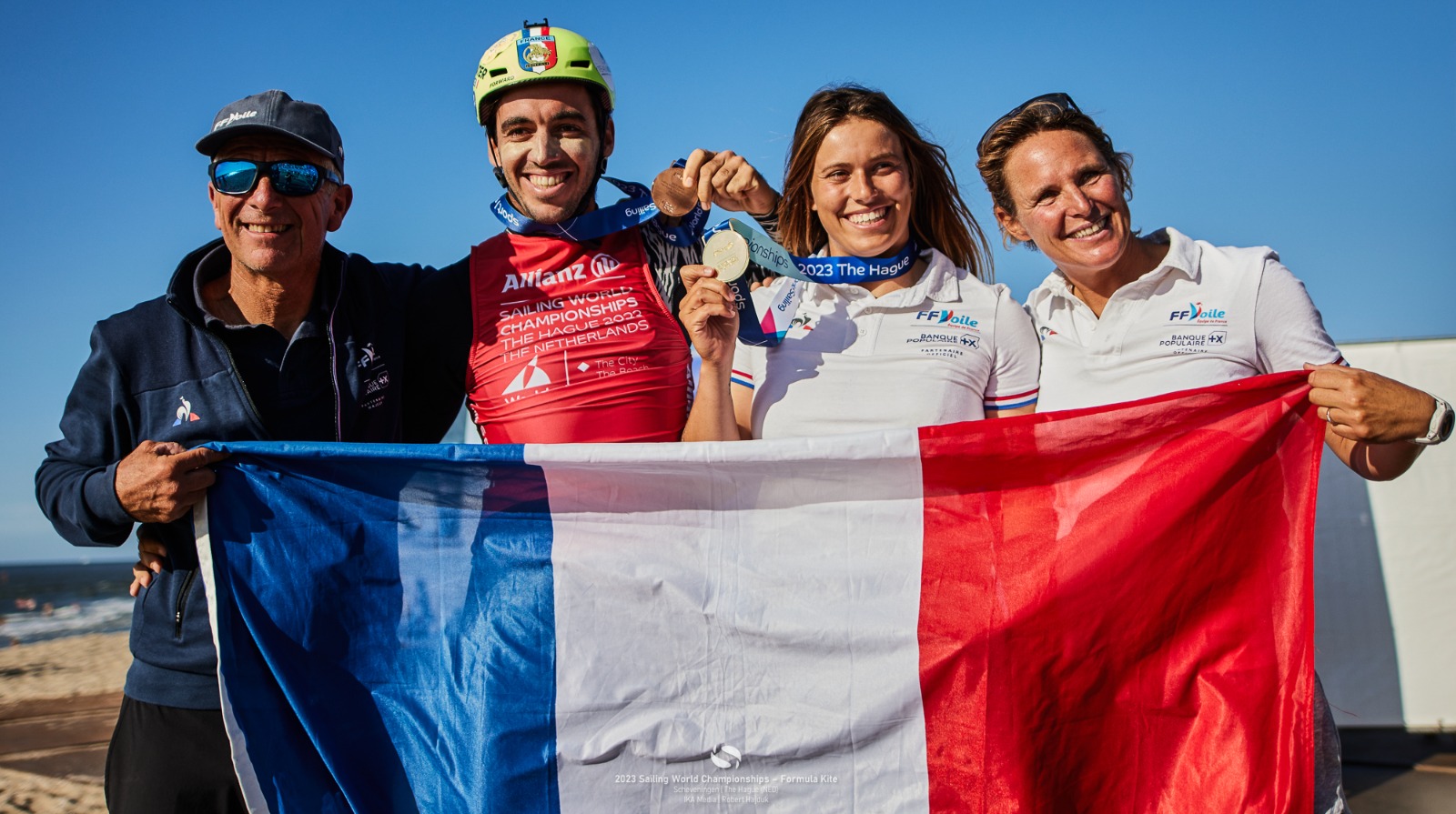 © IKA media / Robert Hajduk: The French had a successful year so far

France's male and female representatives at the Olympic Test Regatta in Marseille in July both came away with gold. A perfect result for Lauriane Nolot and Axel Mazella. Nolot capped off an extraordinary summer of success by taking her first ever Formula Kite world title at the Allianz Sailing World Championships in The Hague at the end of August.
Mazella also made the podium in The Netherlands, the Frenchman taking bronze behind the 16-year-old from Singapore, Max Maeder, and the 2022 World Champion from Slovenia who this year took silver, Toni Vodisek. Mazella's star has been on the rise in 2023 but now he's off to Mauritius for some R&R, albeit he'll still be kiteboarding in paradise. "I'm really looking forward to the trip. It has been a super-intense season and we know that next year is also going to be super intense with a lot of events happening back to back and then the Olympic Games. So Mauritius is my time to relax and recharge."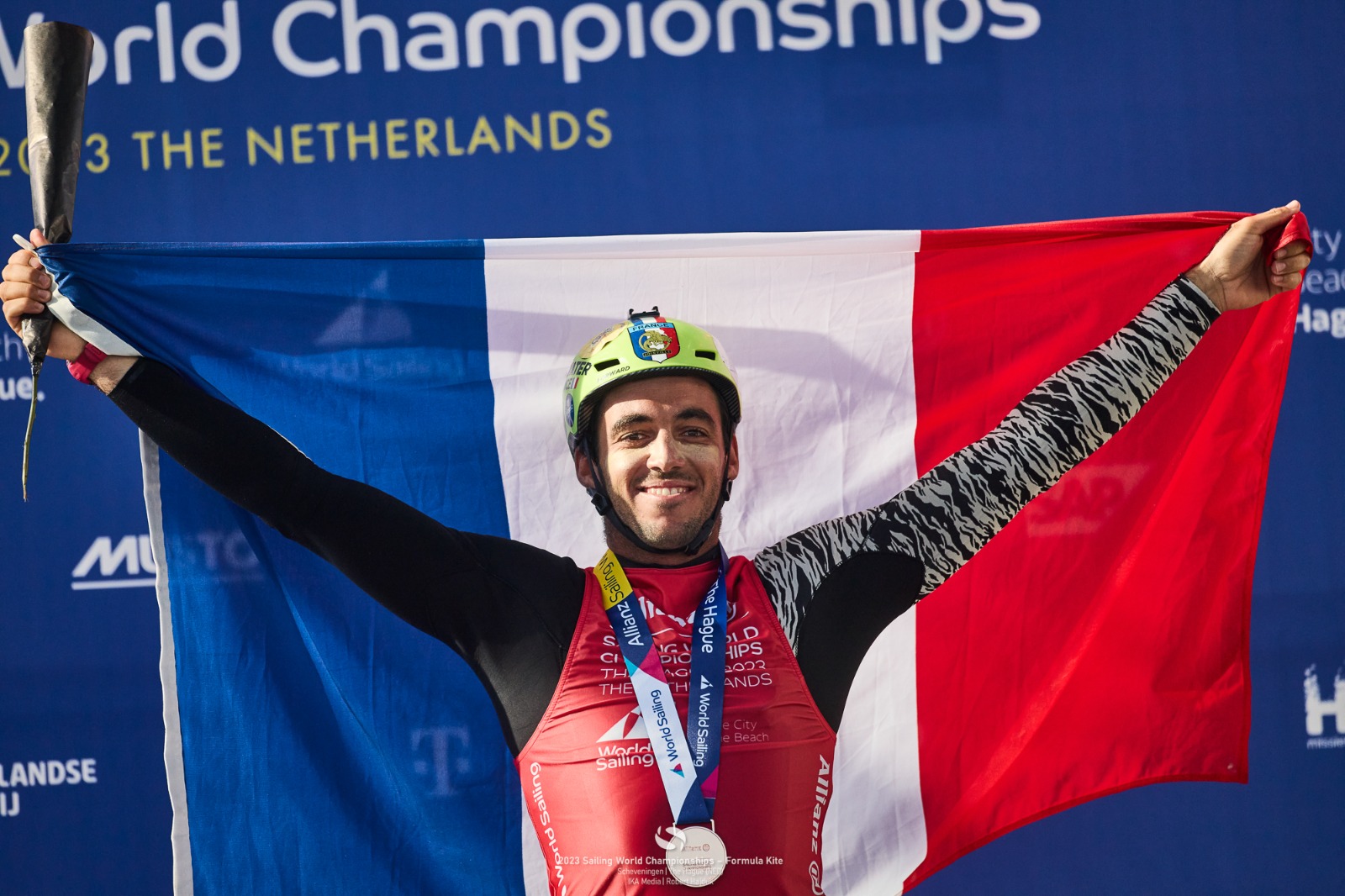 © IKA media / Robert Hajduk: Axel Mazella at the 2023 Worlds

Nolot made a late decision to withdraw from the Europeans, having just finished second at the Mediterranean Beach Games in Crete a few days earlier and not quite feeling at her best. "I think we're starting to understand that we can't perform at every single event during the year," says the French rider. "I'm not feeling like I'm at 100 per cent. It has been a long season and I've won a number of big events this year - Princess Sofia, the Olympic Test Regatta and the World Championship - and I think now is time for me to take some rest before the Olympic Games next year."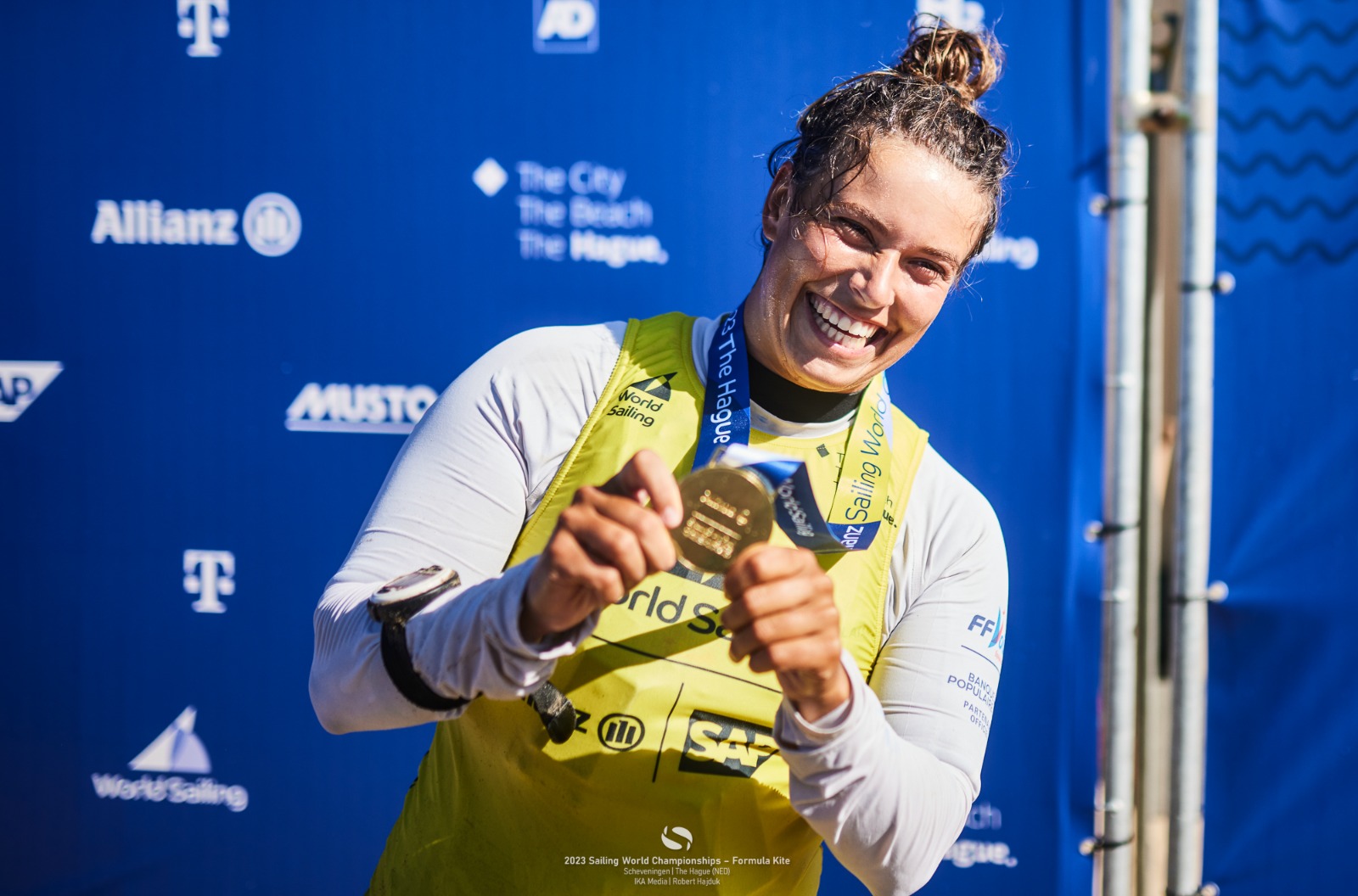 © IKA media / Robert Hajduk: Lauriane Nolot won gold at the 2023 worlds

After winning six world titles in a row and going undefeated in any major competition for a six-year period, American rider Daniela Moroz has started to be caught by the frontrunners from other nations, notably France and Great Britain. Sailors from the USA have struggled for many years with a lack of funding compared with many of the other big sailing nations. Moroz only started working with her own coach little over a year ago and she is her own campaign manager. It's a lot of responsibility and self-management for anyone, let alone for a globe-trotting 22-year-old of no fixed abode. And it's mostly up to Moroz to work out if she needs a rest. After some recent soul searching that's what she has decided is best for the time being.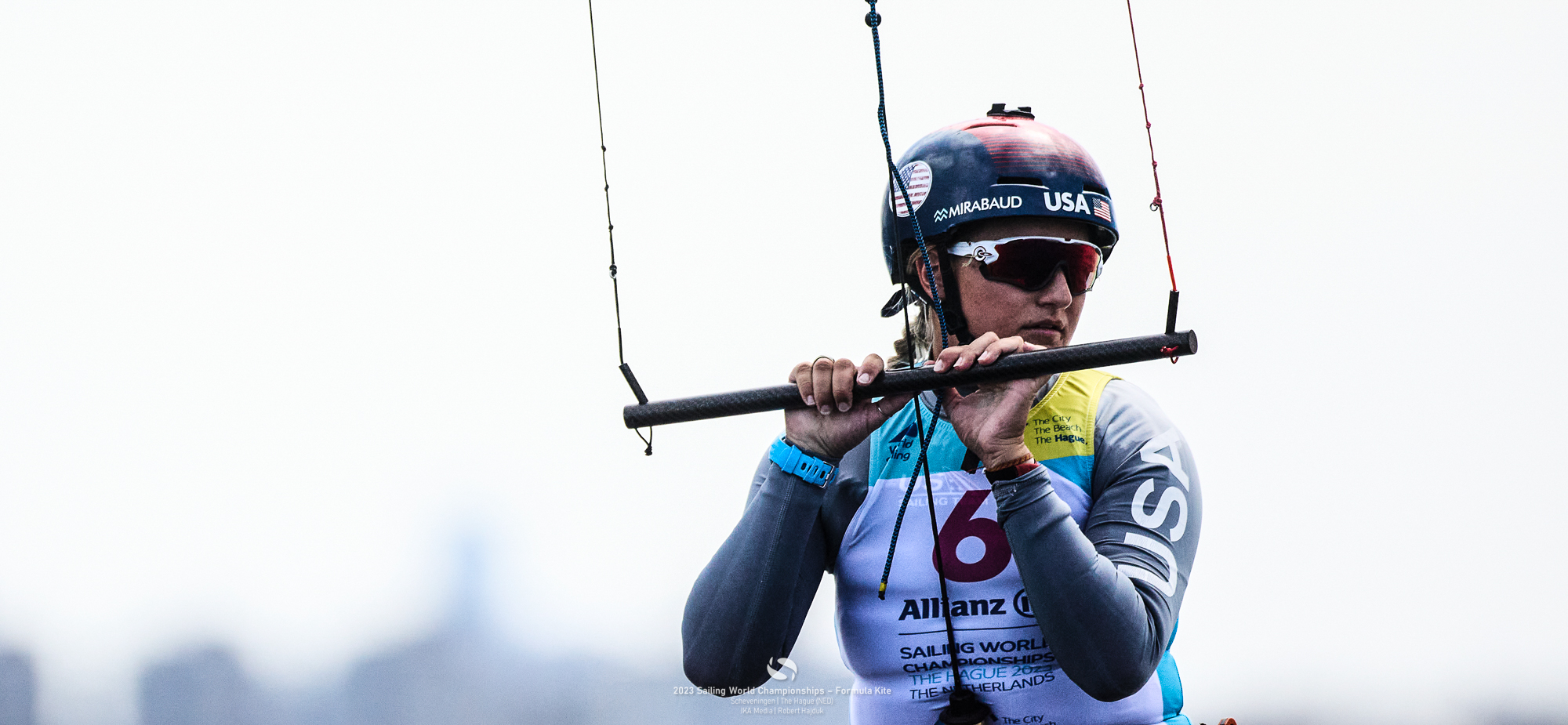 © IKA media / Robert Hajduk

It has been a physically and emotionally exhausting season for the American rider who has said she is taking the rest of the year off from competition.. Although she qualified the nation for a place at the Paris 2024 Games, fifth place at the 2023 Worlds was a disappointing result for the rider who has set the benchmark for so long in women's kitefoil competition. "It has been such a tough year, because normally the Test Regatta and the 'Super Worlds' [the Allianz Sailing World Championship] don't happen in the same year, but that's the way it worked out after the COVID delays. I'm not sure I could have managed to do another really high-level competitive event like the Europeans. It's about managing expectations and managing energy levels. So I'm taking time out to relax and to force myself to have days off from racing and even from training.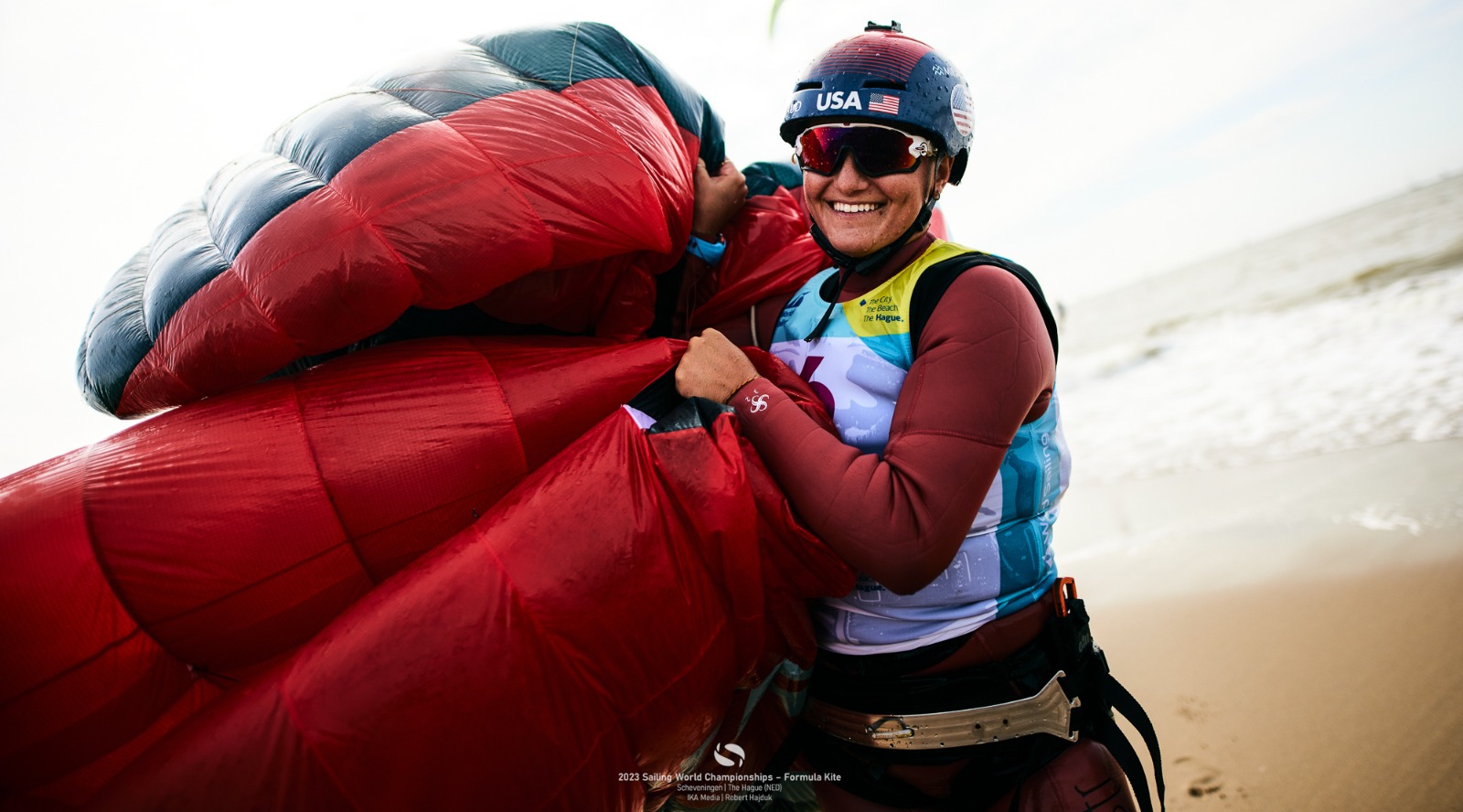 © IKA media / Robert Hajduk

"In most other sports there's an off-season, but in sailing we're almost expected to keep training throughout the whole year. And we can be racing in the winter as much as we are in the summer. So I think our sport is really interesting in that way."
When Moroz says 'interesting' she probably means 'overwhelming'. So dedicated is she to the process of never-ending improvement, she finds it hard to take time away from the board without feeling a sense of guilt. "There's always that voice in the back of your head that other people are still training, and you see their social media and what they're doing." That's when the sense of needing to do more creeps in, even if Moroz knows that more doesn't always mean better. "In those situations, I think it's important to trust yourself, and remember that you are putting the work in. You have to stick to your own schedule, but it's so hard because you just get into this cycle of wanting to constantly keep training and racing throughout the year. It's really hard to schedule the time off, which then leads to overtraining, which leads to mental exhaustion, physical exhaustion, which leads to burnout."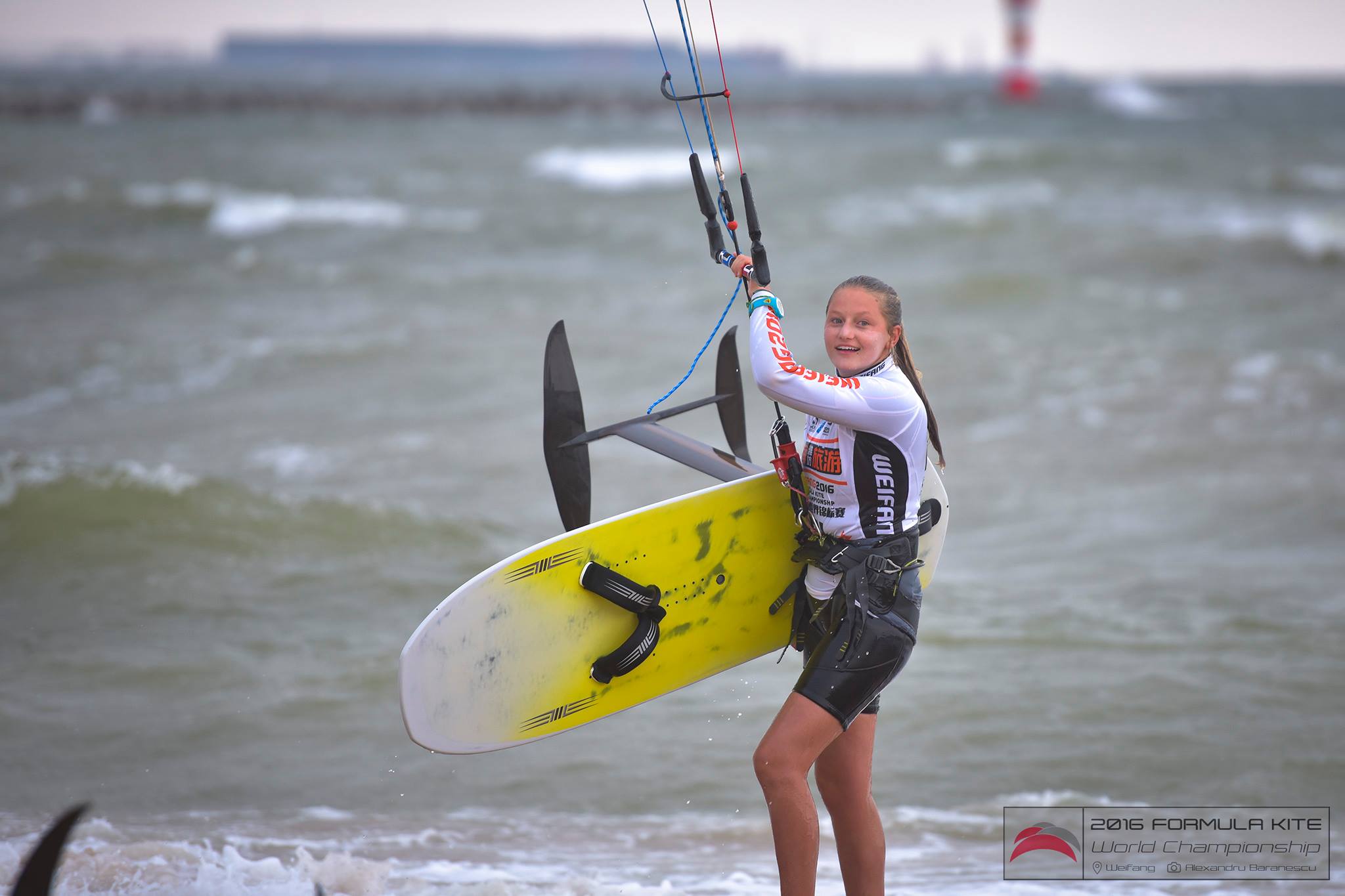 © IKA media / Alexandru Baranescu: Moroz at the 2016 Worlds

They say that it's harder to stay at the top than get to the top, and that's a phrase that certainly chimes with Moroz. As the learning curve flattens out and you find yourself working at the tiny details, chipping away at that final 1% of performance, the rewards of training don't come so thick and fast. Which is why she's really enjoying learning how to sail an International Moth. "When people first get into the sport, whether it's kiting or any of the other sailing classes, your learning curve is so steep at the beginning. I just started Moth sailing earlier this year, and I'm having a blast. I feel so rewarded by every session, because every session is so groundbreaking."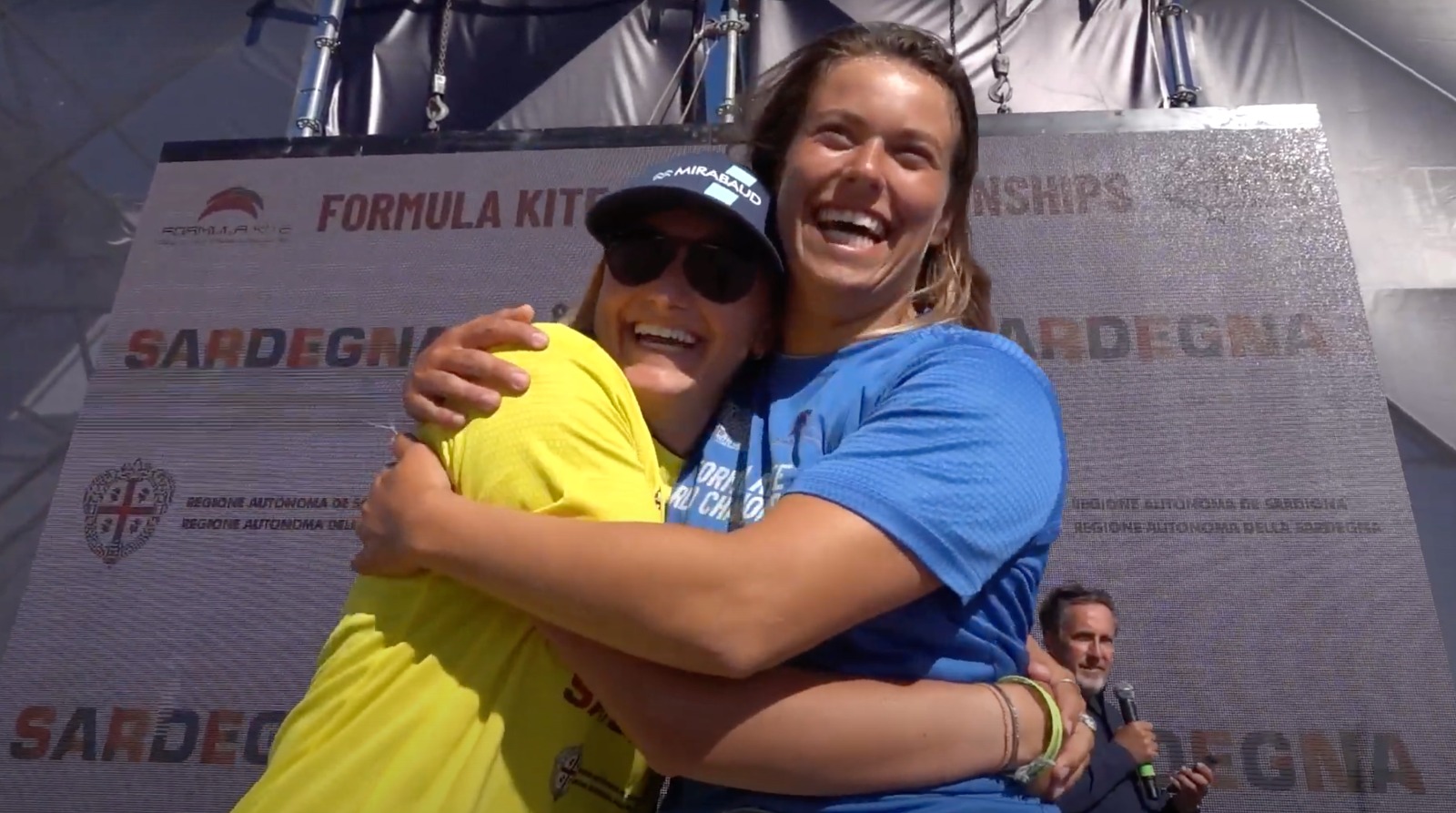 © IKA media / Robert Hajduk: Moroz and Nolot at the 2022 Worlds

Trying different pursuits, and taking the time out itself, is all a vital part of the process, says Moroz. "Honestly, I've had some of my biggest epiphanies about kiting when I've had time off, and when I've been exposed to different surroundings. Recently I've been spending a lot of time in Miami and in Newport, Rhode Island, mostly because my boyfriend is in the pro sailing scene. So whenever I have time off, I go visit him. Being in that culture is really interesting, because you always end up having interesting conversations with different people. Even if they're not connecting to kiting, I think you can learn something from everyone."