It was a rather straight forward win for the reigning Men's world champion who won 13 out of 15 races to qualify directly to the finals, together with compatriot Benoit Gomez. It was interesting to see the two teammates, 30 kilograms apart in body weight, leading the qualifying series convincingly and then battling it off in the front of the fleet. After Briton Connor Bainbrigde and Germany's Jannis Maus won their respective semifinals it was time for the 4-kiteboard final with De Ramecourt getting the single race win he needed at his first try and leaving Gomez with silver and Bainbridge with bronze.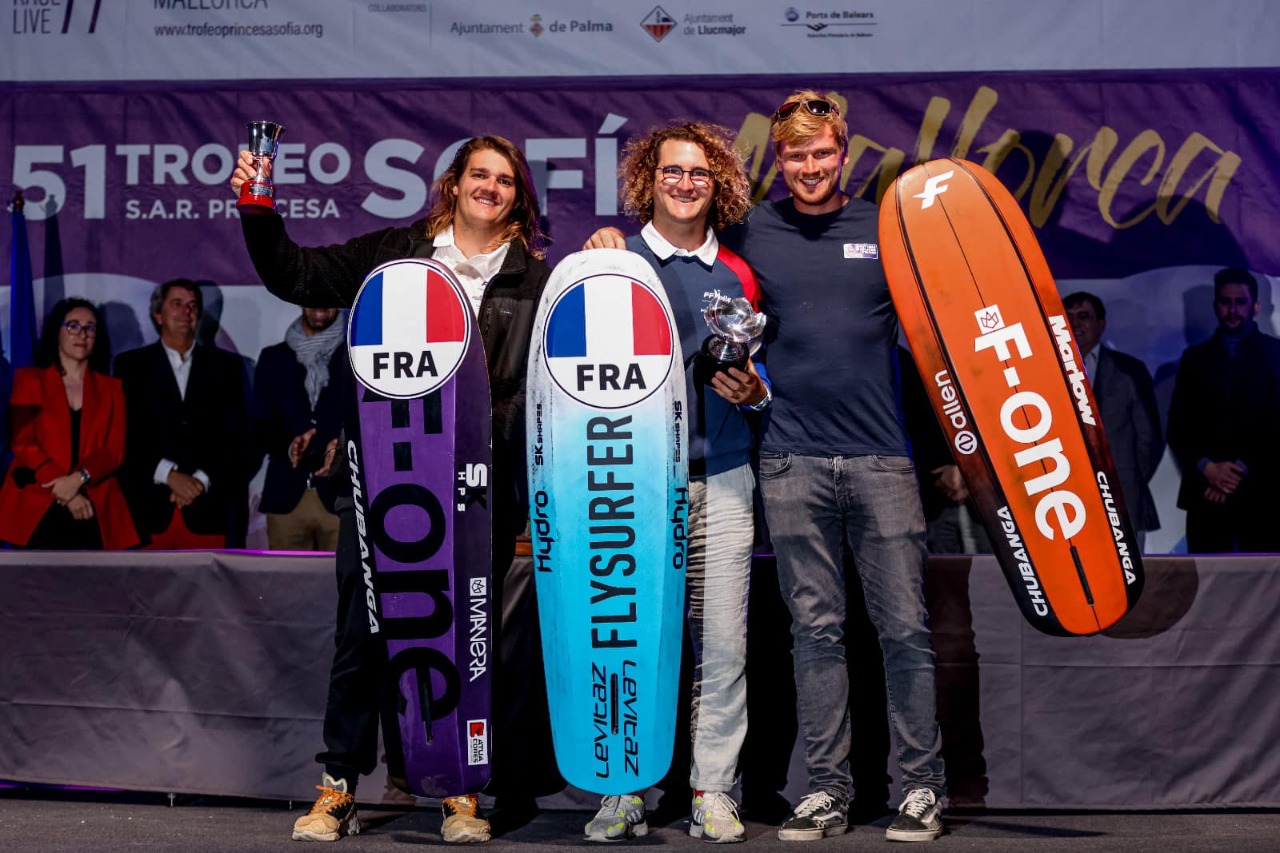 © Sailing Energy - Men's Podium: Gomez (FRA), De Ramecourt (FRA), Bainbridge (GBR)
It was a bit different for the 5 times Women's world champion Moroz, who found herself trailing the leaders after the first two days of the regatta and although she dominated racing in the second half, Lauriane Nolot of France followed her closely and didn't let her take over. Moroz had to settle for going to the finals with one race win, while Nolot with two wins, only needed to win one final race to go home with the gold. They were joined in the finals by to British riders, Ellie Aldridge who won both her semifinals races and Katie Dabson who qualified after Poema Newland from France was disqualified for a rules breach in the second semifinal race. Moroz convincingly won two races in a row and took home the gold, leaving Nolot in second and Aldridge in third.
Men – 75 entries
Theo De Ramecourt, FRA
Benoit Gomez, FRA
Connor Bainbridge, GBR
Women – 38 Entries
Daniela Moroz, USA
Lauriane Nolot, FRA
Ellie Aldridge, GBR
Full results https://www.trofeoprincesasofia.org/en/default/races/race-resultsall